Beta Binomial Distribution Demo
The beta-binomial distribution is frequently used in Bayesian statistics to model the number of successes in n trials. The main purpose of the software is to illustrate how a prior distribution is updated to become a posterior distribution after observing the data via the relationship of the beta-binomial distribution. This demo program has two options for displaying the Bayesian process, which are organized into the two tab pages labeled "Step-by-Step Learning" and "Trial Simulation".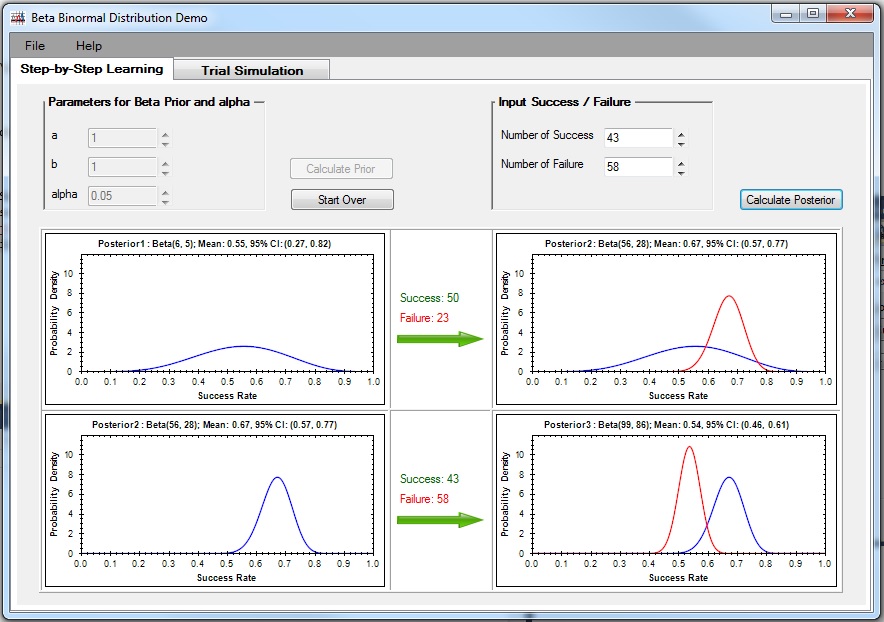 See also the User's Guide available here and also included with the software.
The software was developed by J. Jack Lee and Ying-Wei Kuo. The software tools was: Microsoft C# for the user interface and the calculation engine. (February, 2015)
Note:This software sends usage statistics and crash reports to our biostatistics software support team to improve your experience using the software.
System Requirements
Windows 7 SP1
Microsoft .NET Framework version 4.5 SP1 (full framework, x86 and x64)
Windows Installer 4.5
Minimum Screen Resolution 1024x768
If any of the required software components is missing, the installation procedure will install them.